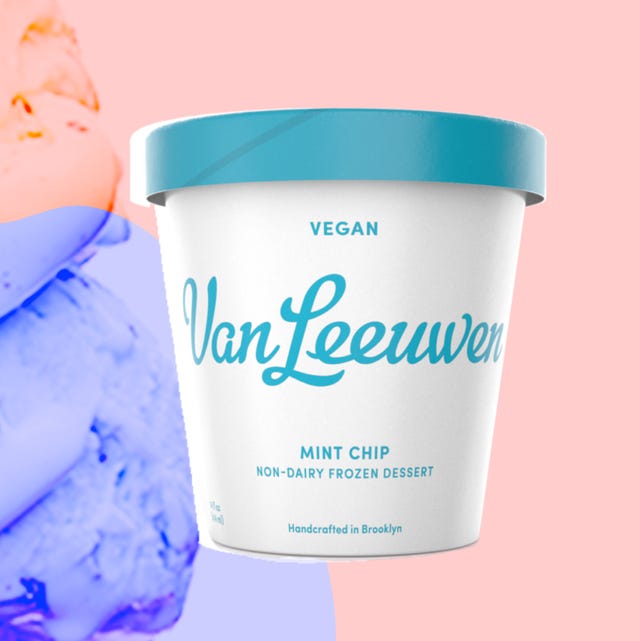 Let's be real. Even if you aren't lactose intolerant, sometimes you just want to cool it on the creamy front for a little bit (hi, tummy ache!). But when it's summer and you're craving a cone full of sweet, rich goodness, how can you ditch your fave dessert? PSA, you don't have to. Now that there are so many amazing milk alternatives (we see you, oat milk), dairy free ice cream is having a bit of a ~moment~. Here are our favorites.
1. Jeni's Dairy-Free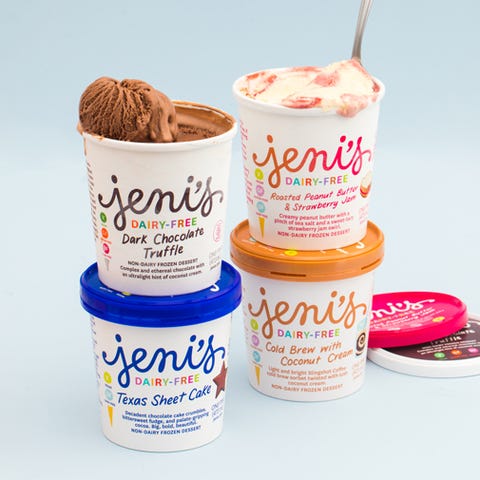 JENI'S SPLENDID ICE CREAMS
Earlier this year, beloved Ohio-based ice cream company Jeni's launched their new dairy free line, featuring four new flavors, including Cold Brew with Coconut Cream and Dairy-Free Dark Chocolate Truffle. Each pint is made from high-quality coconut cream, giving it the body and texture of regs ice cream.
Our pick: Cold Brew with Coconut Cream
2. Van Leeuwen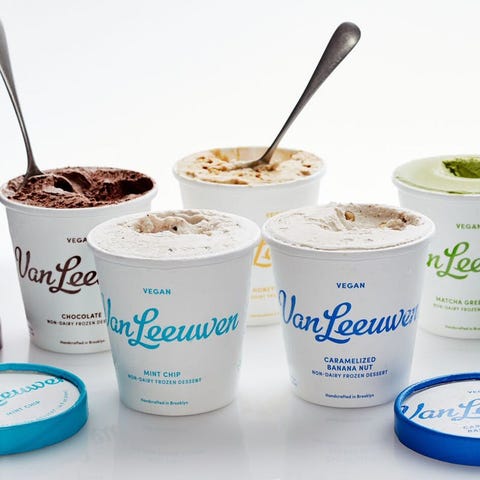 VAN LEEUWEN
This Brooklyn based artisanal brand actually started as an ice cream truck. Now, they sell their drool-worthy dairy-free (and full!) pints in grocery stores around the country. The vegan flavors, including Caramelized Banana Nut and Mint Chip, are made with cashew milk, organic coconut milk, organic extra virgin coconut oil, organic cane sugar, pure cocoa butter, and organic carob bean.
Our choice: Vegan Honeycomb
3. Tofutti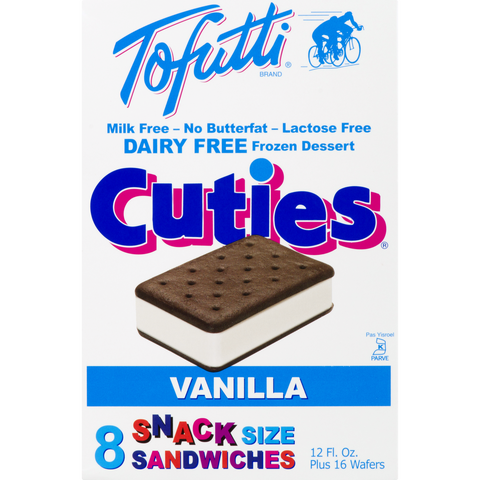 TOFUTTI
Old-school lactose intolerant kids, recognize. Tofutti was likely a staple in your household. Made from soy and tofu, these treats come in vanilla, chocolate, and even mint chocolate chip.
Our Choice: Vanilla Cuties
4. So Delicious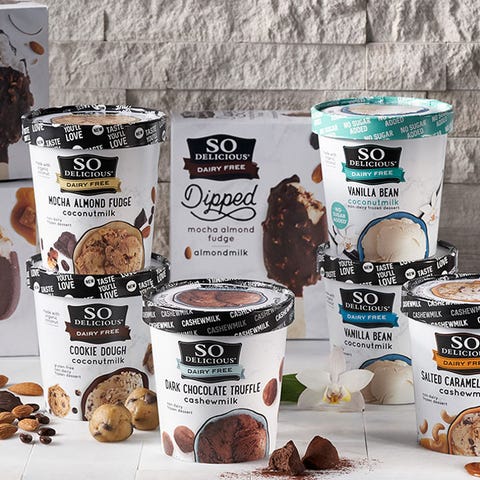 So Delicious offers flavors made from cashew, oat, coconut, almond, and soy milks, with products like ice cream sandwiches, bars, and pints. There's literally no wrong choice here, it's all so delicious. (Sorry, had to.)
Our choice: Mocha Almond Fudge
5. Halo Top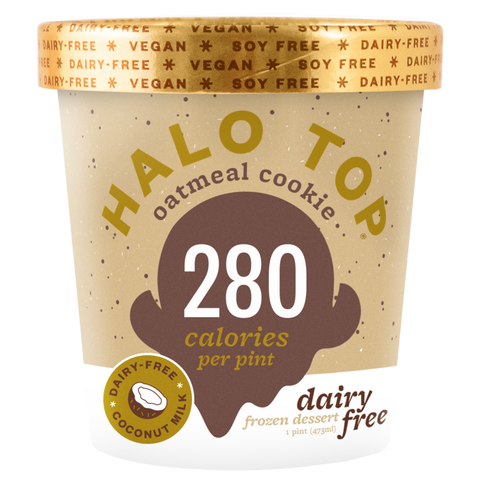 HALO TOP
The (low-key super pretty) non-dairy pints from Halo Top come in fun, delish flavors like Pancakes and Waffles or Peanut Butter and Jelly. All their milk-free pints are vegan and soy-free and made with coconut milk.
Our choice: Dairy-Free Oatmeal Cookie
6. McConnell's Fine Frozen Desserts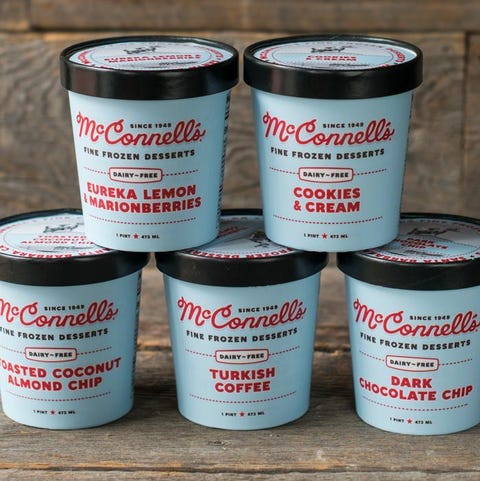 MCCONNELL'S
Wipe your chin, you're drooling. This Santa Barbara–based ice cream company has been around for 70 years and has achieved a total cult following. Now, dairy-free folks can enjoy, too, since the brand came out with five unreal plant-based flavors, including Turkish Coffee and Dark Chocolate Chip.
Our choice: Dairy-Free Toasted Coconut Almond Chip
7. Ben & Jerry's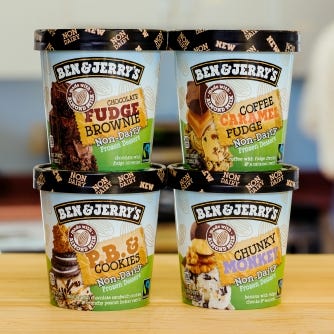 BEN AND JERRY'S
You're lying if you say you've never sat in bed with a pint of Phish Food and binged Riverdale. (Same, though.) What's even better is now you can do it with ice cream made from almond milk, so your dog doesn't judge you for the weird smell under the covers.
Our choice: Chocolate Fudge Brownie
8. Steve's Ice Cream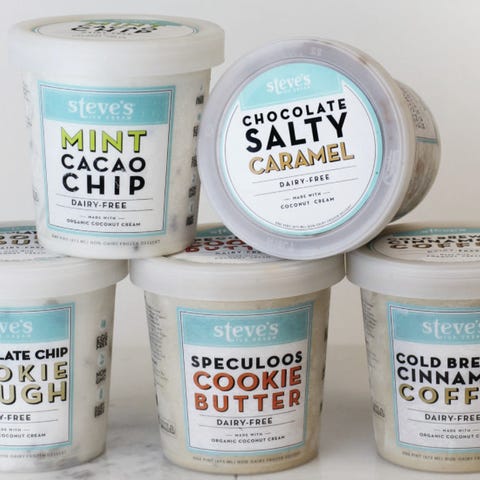 STEVE'S
Wildflower Honey Pistachio? Chocolate Cherry Blossom? Yes and yes. Steve's is known for their creative and enticing flavors, and their dairy-free versions are just as inventive. Made from organic Sri Lankan coconut cream, these options are just as delish as their milky brethren.
Our choice: Speculoos Cookie Butter
9. NadaMoo!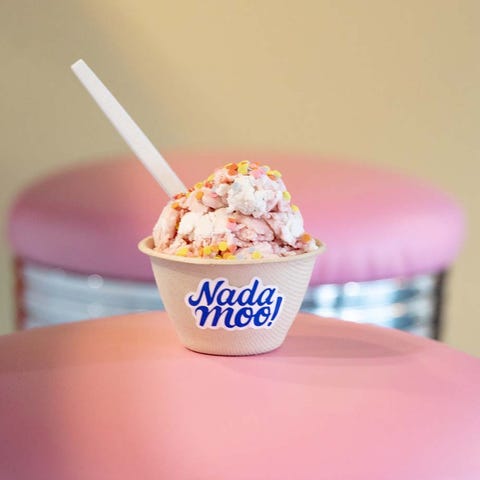 NADAMOO!
At NadaMoo, an Austin-based company, flavors are made from certified organic coconut milk and are vegan, gluten-free, organic, and non-GMO.
Our choice: Cookies & Crème
10. Häagen-Dazs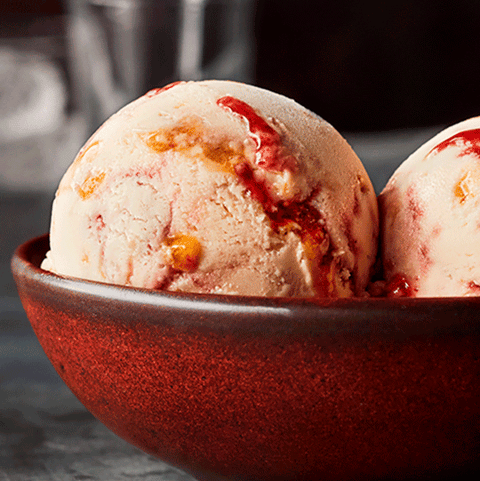 HAAGEN DAZS
As if their regular ice cream wasn't addictive enough, Häagen-Dazs has a line of dairy-free ice creams that we honestly can't get enough of. They have everything from sorbet to bars to triple layer pints, and their newest dairy-free flavor, Amaretto Black Cherry, even has a boozy twist to it. Just take our money.
Our choice: Amaretto Black Cherry
11. Luna + Larry's Coconut Bliss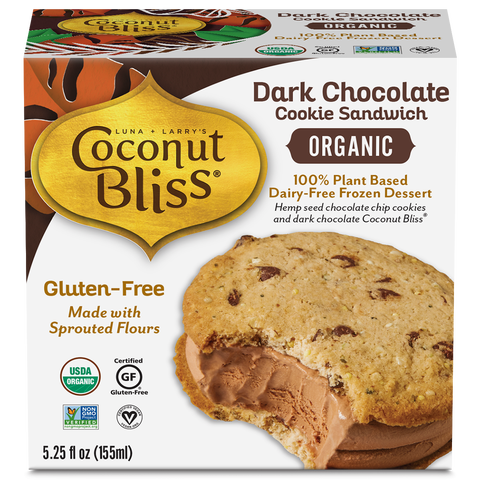 LUNA + LARRY'S COCONUT BLISS
Let's hear it one more time for coconut milk. (Coconut just makes everything better, amirite?) Coconut Bliss makes a variety of ice cream pints, sandwiches, and bars—all organic, gluten-free, and 100% plant based.
Our choice: Dark Chocolate Cookie Sandwich
12. Almond Dream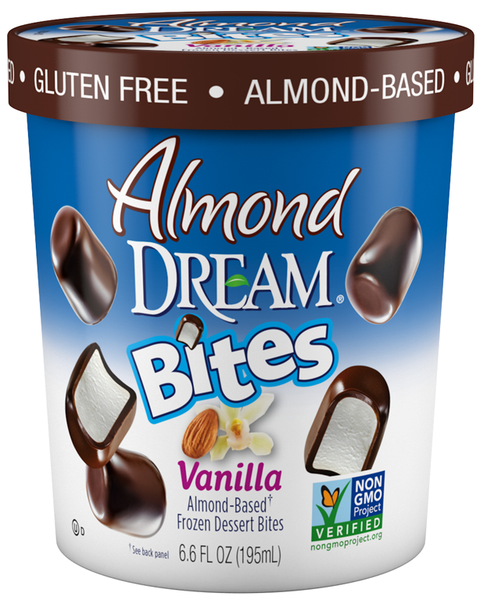 DREAM
Dream makes a whooole lot of products from a whooole lot of bases: almond, coconut, rice, or soy. But the best is their ice cream bites, perfect for snacking (and sharing…if you're able). They come in vanilla, chocolate, and peppermint. Drool.
Our choice: Almond Dream Vanilla Bites
13. Cado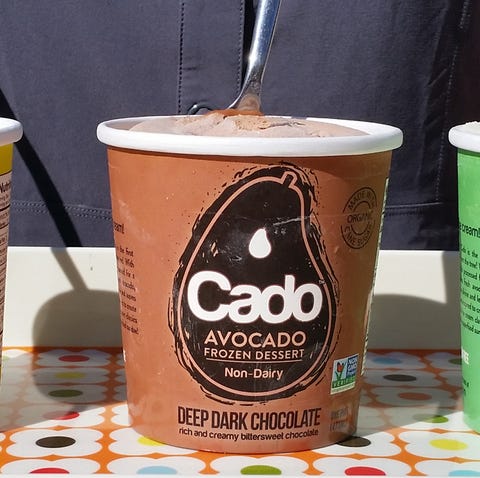 CADO
Cado is—ready for this?—an avocado-based ice cream. Don't even say you're not intrigued. They have seven flavors, like Vanilla Bean, Salted Caramel Swirl, and Java Chip.
Our choice: Mint Chocolate Chip